Will You Marry Me?
A question Ryan totally knew the answer too...but knowing his adventurous ways I knew that he was planning a unique and romantic way to ask me.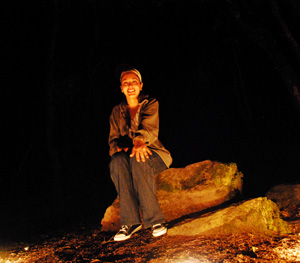 We were taking a big trip to Ireland with all of Ryan's family and cousins. The family and I were site seeing everything we could during the day to make the trip special for everyone. So at the end of these long days, I just wanted to relax back at the family house. Wednesday night, after a day of being out and about, Ryan asked me if I wanted to "go for a drive". Since we were just opening a bottle of wine at the house and winding down for the night I asked where he wanted to go. He just said "a drive" and didn't give me an answer. I was a little confused and I said no, just wanting to relax. This happened for two more nights when I realized that he obviously really wanted to get me out of the house alone and I knew that something was up; so I was ready to take this drive anywhere. He set the GPS to "the destination" and I had a pretty good feeling the proposal was coming soon.
Now Ryan had really been the trip organizer and before we left he asked me if there was anything in particular that I wanted to do while we were in Ireland. The only thing that I bothered to mention to him was that I wanted to possibly go to a castle (which I knew having been to Ireland before that we probably would end up doing at some point anyway). The GPS was counting down to the destination and I could see the dimly lit facade right in front of us of ROSS CASTLE. "THIS IS IT!!! HE IS GOING TO PROPSE TO ME AT A CASTLE!", I thought. I was SO excited and it even made sense that he was hinting at it the whole time because we had been jokingly calling his cousin Scott ROSS the whole trip!! THIS WAS THE MOMENT I HAD BEEN WAITING FOR. As we pulled up closer to the castle I was looking at Ryan and all the sudden he looks at me and exclaims, "OOPS! Looks like we went the wrong way" and he turns the car around.
In my head I am thinking "Wrong way? What about the castle?" - and this time he didn't even set the GPS, so I REALLY didn't know where we were going now. Then, all of the sudden, the car's headlights lit up the sign for "Torc Waterfall". He quickly turned them off and turned to me asking "Do you know where we are?" Now I had just seen the sign but I played along... "Nope. Maybe Torc Waterfall?" But unlike our trip there during the day it was pitch black going into the woods along side the falls. He turned to me and asked, "Alright, are you ready to hike to the top?" Now I am thinking in the back of my head... "this is a test to see if I am worthy of the ring ...I can go along with this," and I agreed. We start hiking and a few minutes in I turned around and noticed that I couldn't see anything. Starting to panic and question if I was going to be able to do this, Ryan pointed to a large rock to our right and brought me to sit for a minute, assuring me that it was OK and that we didn't need to hike all the way to the top.
After I'd collected myself, he asked me to close my eyes. While my eyes were shut, he quickly created a ring of these mini tea light candles around me and lit them. Then he got down on his knee, asked me to open my eyes and said "There is nothing that would make me happier than if you would be my wife" and I couldn't stop crying tears of joy!!! How blessed I am to marry such a wonderful man!
We headed back to the family house back in Tralee and everyone celebrated in the proper Irish fashion... with lots of Guinness ;-)
Continue reading how it all started...